ArtiSential-Assisted Gynecological Surgery
ArtiSential provides advantages during complex gynecological procedures while operating in small spaces, at angles that are not easily accessible.
Bipolar Fenestrated Forceps
For efficient tissue/organ manipulation and cauterization of small vessels.
Bipolar Precise Dissector
For dissection of delicate tissue and cauterization in narrow spaces.
Monopolar Scissors
For excision of endometriosis lesions, especially in difficult-to-reach spaces in the pelvis.
Monopolar Spatula
For optimal colpotomy from a perpendicular angle.
Needle Holder
For articulated suturing and needle passing.
Precise Needle Holder
For microsuturing and manipulation of smaller needles when suturing.
Major Gynecological Procedures with ArtiSential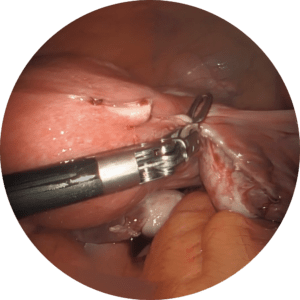 Total Laparoscopic Hysterectomy (TLH)
Enables flexible approach for optimal incisions during colpotomy
Minimizes the risk of ureteral injury by curving along the uterus
Allows perpendicular approach when securing and transecting ovarian vessels and uterine arteries
Creates perfect triangulation to overcome challenges of suturing during vaginal cuff closure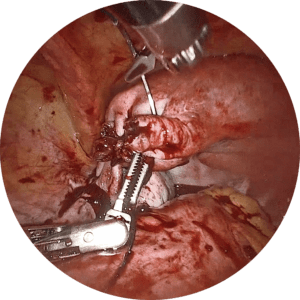 Myomectomy
Dissect uterine fibroids with precision
Use wristed movements to sew defects closed
Create smooth lines of cautery
Minimize contact and injury to lining and wall of the uterus with manipulation of articulating end effector
Other Gynecological Procedures with ArtiSential
Endometriosis
Excise endometriotic lesions and nodules with precision
Meticulously dissect along the peritoneum
Sacrocolpopexy
Use articulation for smooth posterior dissection of peritoneum from vagina
Make intricate movements to maneuver mesh
Secure vaginal apex to sacrum with wristed sewing movements
Ovarian Cystectomy
Preserve more healthy ovarian tissue
Excise endometrioma wall and endometrial lesions with less damage to ovarian reserve
Coagulate at angles that are difficult to reach
Strip cyst with precision to reduce damage to ovarian tissue
Salpingectomy
Grasp and expose fallopian tube for an uncomplicated excision
Example Hysterectomy Steps with ArtiSential
Learn more about surgeon experiences with ArtiSential in gynecologic surgery.