Articulation with Tactile Feedback.
ArtiSential
Designed to move with the same dexterity as your hand and wrist
Articulation with Tactile Feedback
ArtiSential provides the benefits of articulating instruments without losing tactile feedback, which is essential for applying precise pressure on delicate tissue.
Flexible Access
The multi-jointed end effector allows various angles of approach with full range of motion in difficult-to-reach spaces. This allows greater access to a variety of anatomical structures, less invasively.
Ergonomic Interface
ArtiSential features a precision grip that enables comfortable manipulation and control. The end effector moves seamlessly in synchronization with the user's hand and wrist movements.
Full Suite of Articulating Instruments
Our growing portfolio of articulating instruments include energy and non-energy, monopolar and bipolar laparoscopic instruments. LivsMed continues to expand the ArtiSential line to meet the needs of advanced, minimally invasive surgeons in a variety of procedures.
Any O.R.
Anytime.
ArtiSential eliminates the need for scheduled block time. It can be used in the existing surgical environment without additional devices, set-up time, capital investment, or footprint. ArtiSential provides immediate capabilities.
The ArtiSential Approach
ArtiSential is the first articulating laparoscopic system to feature an extensive product line with over 30 different instruments to fit the various needs of minimally invasive surgeons. Its multi-jointed end effector enables a full range of motion that is perfectly synchronized with the surgeon's hand movements. ArtiSential's wristed articulation assists the user in performing highly complex movements in a wide variety of procedures.
Ergonomic Design. Flexible Control. Incredible Precision.
ArtiSential articulating laparoscopic instruments are designed to be precise, flexible, and versatile. Each instrument in the ArtiSential line has an ergonomic handle and intuitive end effector.

Multi-Jointed End Effector
The end effector is made with two joints to allow for simple to complex horizontal and vertical movements that seamlessly synchronize with the surgeon's hand motions.
Jaw Control Rings
Using just a thumb and index finger, surgeons can easily open and close the end effector with the jaw control rings. An ambidextrous design ensures ease of use for both right-handed and left-handed surgeons.
Handle Grip
ArtiSential's handle grip is engineered to fit a diverse array or hand sizes, from small to large.
Locking Lever
The locking lever deactivates the end effector's double joint to hold it in place as needed. The end effector can no longer move up, down, left, or right, but can still open and close via the jaw control rings.
Electrode
The energy instrument has an electrode at the tip, which can be bipolar or monopolar, depending on the specific product model.
Shaft
Available in 2 different lengths of 25, and 35 centimeters, the shaft connects the handpiece to the multi-jointed end effector.
ArtiSential-Assisted, Every Step of the Way
Fenestrated Forceps
Reliable and efficient tissue and organ manipulation. Unique articulating technology and design of end effector allows for atraumatic grasping

Bipolar Fenestrated Forceps
The articulating Fenestrated Forceps, made bipolar.
The ArtiSential Bipolar Fenestrated Forceps offers all the benefits of our Fenestrated Forceps, with added bipolar energy to cauterize small vessels and manipulate tissue and organs.

Needle Holder
One issue with suturing laparoscopically has been the difficult angles of approach that often make it strenuous to suture at the surgical site. Straight laparoscopic tools often cannot provide easy access and suturing of curvatures or deeper areas. The ArtiSential needle holder provides efficient angles of approach for suturing structures perpendicularly and vertically. Reverse suture throws and other types of motions are also made more flexible and ergonomically friendly by the articulating joints of the end effector

Monopolar Spatula
The ArtiSential Monopolar Spatula delivers monopolar energy with versatility, Reliable monopolar coagulation and dissection with articulating technology enables the user to approach target area from any angle. Allows full range of motion for complex maneuvers

Monopolar Hook
Reliable monopolar coagulation and dissection with articulating technology enables perpendicular approach from any angle. Allows full range of motion for complex maneuvers

Bipolar Precise Dissector
The ArtiSential Bipolar Precise Dissector features a detailed, smaller-sized end effector that allows for precise dissections in narrower surgical sites

Maryland Dissector
The ArtiSential Maryland Dissector features a fine, tapered, and curved tip. The precise design and articulation of the end effector make it ideal for controlled dissection
Bipolar Maryland Dissector
The ArtiSential Maryland Dissector, made bipolar
Clip Applier
The ArtiSential Clip Applier offers reliable ligation with medium-large polymer clips during surgery. Articulating technology allows various, precise angles of approach and flexible movements for secure clip application, even in areas where it is difficult to reach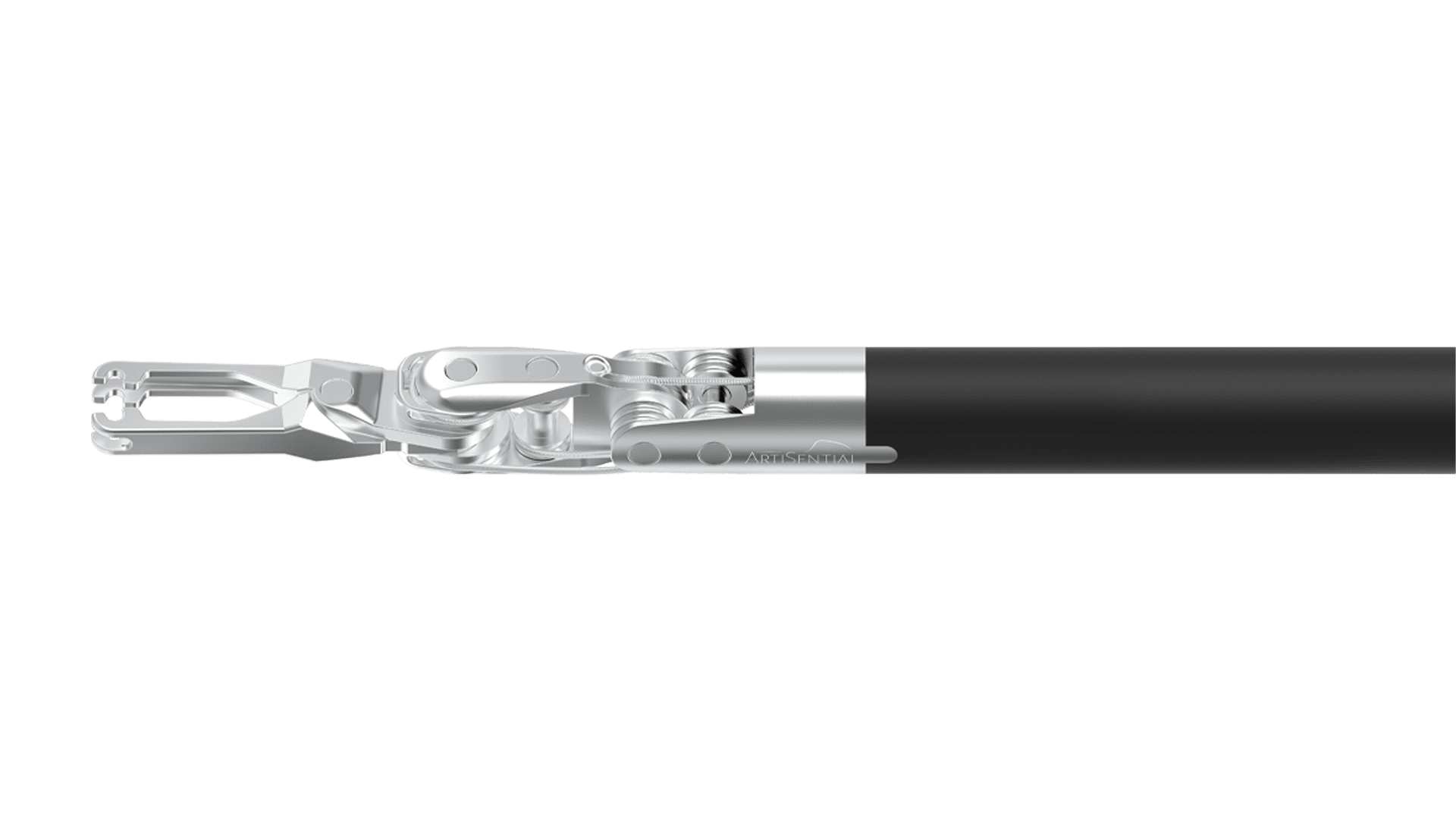 Monopolar Scissors
Coming soon. Not Available for Sale in the United States

Learn more about ArtiSential Assisted procedures